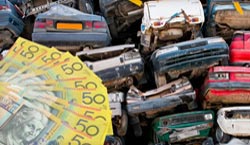 Selling your car in Melbourne is now very easy and fast with Cash for Car Melbourne. You give us a call on 03 9012 5912 and we offer a price. After your green signal, we come to your location and we put the money into your pocket that was quoted to you.
If you want to sell a car, then its can be done with three easy steps.
1 – Get Price Quote for Car
Call to our cash for car representative on 03 9012 5912 and discuss your car details. We need
Vehicle make, model, year
Vehicle overall condition
Vehicle pick up address
After analysis of all details, we'll offer you a price quote for your car.
2 – Schedule your car removal
When you feel satisfied with your price quote, just let us know and schedule your car to be removed. Choose date and time and that's it.
3 – Get cash for your car
We'll send our experienced car removal team to your location who will give your cash money on spot.
4 – Car removal from property
After giving you all paper work, our car removal expert will remove  your car from your property. Our team member will not charge you for  your car removal and paper work regarding selling of your car.
Things to Do before car removal
Remove your personal belongings from your car e.g. cds, books, jewellery,
Remove your e-tag and number plates
Park  your car on road so that it can be easily pick up
Compare our car prices with other Melbourne's top cash for car service provide like Metro Car Removals and Melbourne Car Removals.